Believing in yourself is the spark that ignites the flames of success and happiness. For today's episode, we'll be having the honor of hearing from Reid Tracy, President and CEO of Hay House, the publisher of personal development and spirituality books. Reid Tracy's life story is a testament to the power of self-belief. From overcoming learning disabilities to becoming a pivotal figure in the world of publishing, Reid emphasizes the essential role that believing in oneself plays in achieving success. He also sheds light on the art of writing and publishing, mentioning several notable books Hay House has published. Reid reveals the secrets behind creating a successful book, building a platform, and connecting with your audience. Throughout the episode, he encourages everyone to embrace our uniqueness and refrain from comparing ourselves to others. Your journey is unlike anyone else's, and by believing in yourself, acting on your dreams, and being happy in the moment, you'll find the path to success and fulfillment. Tune in now for a dose of inspiration, empowerment, and actionable advice.
—
Listen to the podcast here
Or watch it here
Writing Your Path To Happiness: What Makes A Successful Book And Happy Life With Reid Tracy
We are so blessed to have Reid Tracy with us, the President and CEO of Hay House, the largest and most influential self-empowerment publishing company in the world, where he has worked for over 30 years. Publishing hundreds of prominent authors over the years, Reid has played a crucial role in the strategic development of authors such as Dr. Wayne Dyer, Dr. Joe Dispenza, Jerry and Esther Hicks, and Anthony William, the Medical Medium. Reid is also directly responsible for establishing Hay House's offices in New York, London, Sydney, and New Delhi. Reid is also the President of the Hay Foundation, a nonprofit foundation founded by Louise Hay, dedicated to empowering women, children, and animals.
—
Thank you for being here. I appreciate you.
I'm happy to be here.
You have a beautiful glow about you. It's true. Let's say for what it is. It's going to be beautiful. Thank you for your time. This is very gracious of you. I know you're a very busy, successful person. Beyond that, to start the conversation, is about your own self-realization. Perhaps share with the audience, those who are entrepreneurs, those who want to write a book, for instance, or want to speak on the big stages. Those individuals who are striving for that top. What better being than you to share with us your own realization of self-actualization, and perhaps start with a little bit about your background? Touch on your background, and who you are before you became this successful entrepreneur.
I've been working here at Hay House for 34 years, so that's a big part of the story. Before I came to work here, I was a CPA. I went to college to be an accountant and I became a CPA. I worked in an accounting firm. Hay House became one of our clients at the accounting firm. We were across the hall from each other.
Louise was on Oprah and Donahue in the same week in March of 1988. Her whole business changed dramatically. Louise started Hay House in 1987 when she was 60 years old. Anyone who thinks they're too old to get started in their business, they're not. She got started. She had already self-published two of her books, Heal Your Body and You Can Heal Your Life.
She started Hay House to help publish her friend's books. She started publishing people's books. She had that big success going on Oprah and Donahue. At that time, Donahue was the big show that was bigger than Oprah back in 1988. Her whole business took off. She came across the hall to the CPA firm and said, "What do I do? How can you help me?" They assigned three people to come and help. I was one of the three people.
I went over there and was working with them a little bit. After about six months of working with them, they decided they would hire someone to have in-house to do their accounting. I applied to be the financial director at Hay House and I became the financial director. A couple of years later, people left and I became in charge of the company and running it with Louise. Things all grew from there.
When I started, we had 3 books and 5 audio tapes. It grew greatly. I started with the accounting firm and they had a couple more books when I started working there. There you go. Now, we have offices in the UK and New York. I'm in California, India, and London. We have stuff all over the world. We're one of the twenty biggest publishers in the United States.
This light that transmits right now through you is very beautiful. It's very little ego. I would like to investigate this because a lot of entrepreneurs are facing this problem of technology and they're trying very hard to succeed. Therefore, I believe that there is a very much lack of self-awareness or a limitation of the mind itself. The lack of that self-awareness is getting in the way of their own success and happiness. Could you touch on that? Sometimes, when it comes from me, they don't listen, but when it comes from you, they'll listen. Third-party validation. It's very difficult in this world of technology. You said you had two tapes. Did you say 2 or 3 tapes?
We have audio tapes and then obviously things changed over the years and we did CDs and then digital downloads. Now we have an app called Empower You audio app that has all the audios we've ever created. It has 30,000 hours of audio. Things have changed over the years. As the world changed, so did we. We used to mail people catalogs and take orders in the mail. We started our websites and now we talk to millions of people online every year. Everything has changed over the years and we're able to do it as we keep going and going. Being in this business of self-empowerment and being around all these authors gives us a different perspective than a lot of people.
As Louise said, when she got started on this spiritual path, she couldn't stop the success from coming because she was in the right place doing the right thing. We've continued that basically for all these years. That's it. We started doing business books a few years ago and now we're one of the twenty biggest business book publishers in the United States as well.
We've expanded even beyond our spiritual base and we do books with lots of super-successful entrepreneurs and coaches. You don't know what's going to happen over time. Even everyone here at Hay House didn't believe that we could do business books, but we did. We have a great new business book.
We released 10X is Easier Than 2X. This is an awesome book for everyone tuning in and even for you to look at. You know how most businesses have an 80/20 rule, 20% of your stuff gives you 80% of your profits and sales. It's concentrating on that, paying attention to it, and thinking big instead of thinking small. It's easier to think big and achieve those things than it is to go a little step at a time. It's a great book.
Dan Sullivan and Ben Hardy wrote the book. I think it's going to be a huge help to many entrepreneurs. It's not just for entrepreneurs and business people. It's for you in your own life. One of the examples they give at the beginning of the book is about Michelangelo and how he 10X-ed his life. It had nothing to do with business. It's important that you blend both of those things and take care of everything, not just one or the other.
Your message is very powerful. You ended with the importance of not fixing your attention on this one goal but fixing more attention on developing yourself and the rest will take care of itself. I've never met you, but it feels to me that it is very much what happened to you and those connections you've met. You have a very big influence on your life. You have a picture of one of them. I see the picture behind you.
I have the two pictures, Wayne Dyer and Louise Hay, back there. I've worked here for 34 years. Louise passed away six years ago and Wayne about eight years ago. They both died on the same day, August 30th, two years apart. Before that, I talked to both of them every day for 25 years.
You are filled with wisdom and light, and this wisdom now is touching so many lives and we're very blessed because of that.
It's funny because I always tell everyone that when I came here to Hay House, I didn't know anything about self-improvement or any of that stuff. I tell everyone I got it all by osmosis by being around all these people. Pretty soon, one day, you're talking to someone and giving advice and things you learned along the way. It's not like I sat down and decided to become a big student of it. I've been around the people, the books, the audio, and all that. Over the years, it seeped in. You get to learn a few things along the way.
You're embedded with this and now you have become this. You're embodying this wisdom. That is so beautiful. You touch on something important for those who want to achieve anything, even happiness in their life, or even write a book. It's the power of association. I hope that if you're tuning in to this right now and you understand this power. Can you touch on that a little bit more? Is it one part of your teachings as well? Do you teach those as keys to succeed, the importance of association, the importance of influence, and connecting with other people who have what you want to have?
I don't teach it, but it helps if you're around the people that do what you want to do, then you're going to learn from them. It's like me being around all the people at Hay House. You learn from them and you get a little bit of that information. That helps. I've been part of mastermind groups. That helps. Connecting with other people doing the same thing you're doing. It's usually those groups that help you with the business and they help you with the demands of being an entrepreneur, which are different than other people.
It helps if you're around the people that do what you want to do, then you're going to learn from them.
Click To Tweet
It helps you have people that relate to what you're relating with too and all that thing. I think that definitely helps people succeed in what they're doing. It definitely will help them along the way. It's not something that I did like, "I want to be around this person and that person." We used to do lots of live events here at Hay House, so lots of weekends and lots of time, I was with people in person too, not just talking to them on the phone. Nowadays, everyone does Zoom and all that. I think that it's valuable to have a personal connection, not just a video connection with people.
That is going back to what I call infobesity. I'm writing a book about it. Infobesity is this overload of information. Even in your own work of creating something, do you feel like there is that technology pressure, perhaps not even you personally, but the one who is writing the books, that there is information that they cannot create paralyzed because of this technology that's always there. They're always touching their phone. They're never present or whatever it is. What is your take on this overload of information, the data? Do you practice certain things so that you can be quiet? Do you practice meditation? What is your take on that?
I don't do it every single day, but I do meditation for twenty minutes a few days a week. I personally go to Idaho for nature You're then away from it when you're out in the middle of nowhere. I have a house in Idaho. That's the place that I go when I want to get away from all of it and do that thing. People use technology to write books. You write them. A lot of people write them on computers and you're connected that way and that's fine. There are distractions and you have to incorporate things into your habits so that you do them every single day.
We teach people who want to write a book, for instance. If you want to complete your book, a lot of people have an idea to write a book, but they never get it done. There's a New York Times survey of how many people want to write a book, and 85% of the people who responded to the survey wanted to write a book, but not all of them completed their desire to write the book. We have memberships. We have a Hay House writer's community and an Authorpreneur community that helps people finish their books. Our goal is to help them finish the book in a year. One of the big goals for you if you want to finish a book or any project is to incorporate it into what you're doing already.
One of the people I work with, Kelly Notaras, wrote this book called The Book You Were Born to Write. She helps people write books and she does the writer's memberships with me. For her, in order to get her book done, she gave up meditating for six months. Every single day, she meditated for 30 minutes. That was already on her calendar. She gave up meditating for writing and then, in six months, she finished the book.
You don't have to do all those things to get the book done. You just have to figure out what you're going to do. Every day, you're going to write before you eat breakfast and then your reward is eating breakfast or you get your tea or coffee, write and then eat breakfast, or you're going to go for a walk after your write, or you're going to go do anything, but you incorporate it into your daily routine.
If you write one page every single day in a year, your book is going to be done. If you can write 2, 3, 4, or 6 months because if you have 300 pages, the book is going to be done. It takes between 50,000 and 70,000 words for a book. When you think of it like that, that seems easy. What people do is they don't take the time or they think they have to go away to some mountain retreat to write the book, or they have to do this, or they have to do that.
The reality is for some people, that works. Other people can do it in their everyday life. Some people write them on planes. Some people need quiet and personal time to write it. Some people do it in coffee shops. Every single person is different so there is no right and wrong answer, but it's important to get it done if you want to get it out and share it with other people in the world.
You're saying basically we're focusing on the bad habits and we have a tough time changing those bad habits, and it's possible because you are very much here telling us this powerful message. In fact, pretty much anybody with the desire to write a book can if they want to.
Anyone can write it and anyone can publish it. You can self-publish the books on Amazon or somewhere like that. A lot of times, the reward for doing that is them being happy that they finished the book. It's like if you climb Mount Everest, it's for you. You get to the top and it might change your life forever because you accomplish this amazing thing, but you do it for yourself.
Lots and lots of people write the books for themselves. They get the book done, get it printed, give it to friends and family, and then get the book. I get letters every single day from people we've helped finish their book and they didn't realize what a big life-changing thing it would be for them just to write the book and get it in their hand and have that feeling of accomplishment.
There are other people that want to reach a bigger audience. For the people that want to do it for themselves and their friends and family, that's amazing. That's good. It is a huge accomplishment. It's like climbing a mountain or running a marathon or anything like that. There are people who want to reach other people with the book.
Those people, you have to do more because you have to start developing an audience. You have to start creating someone that wants to connect with you. That can be doing social media, a podcast, building your email list, having a website, doing blogs, doing speaking, and all those things. You have someone who wants to learn more from you and buy the book, and then that's what it takes.
That's called building your platform in the book publishing world. The bigger your platform, the more attention you're going to get from an agent or a publisher if you want to go that route, whether than self-publishing. Even if you're going to self-publish, having that platform established is going to make a difference and you're going to be able to sell more books. That's a second important part of your book writing attempt. If you want to sell the books, you have to have an audience. That's the other thing that's involved in it.
If you want to sell books, you have to have an audience.
Click To Tweet
You have to build that audience. The sooner you start building it, the easier it'll be to sell your book when it's done. You can also use your book to help build your audience as well. Books are great at not only building an audience but if you meet with people or work with people one-on-one, if you publish the book, it'll probably help you fill up that. Every single day, you're as busy as you want to be with those one-on-one clients or even small groups of clients. It becomes a great way to build your business as well.
It gives an incredible power of credibility because I'm someone who has no certifications as far as traditional school because I didn't go to school. I had learning disabilities. I could not write or read. Therefore, when I wrote a book, it helped me build credibility with the audience I was speaking to. They could relate and say, "At least she's speaking from some truth if she wrote a book."
Whether I was speaking the truth or not, who knows? The fact I have this book is very powerful because it will give you credibility and emphasize the message that you are sharing with the audience and you're speaking from some facts. That being said, the question to you as the expert is, how do you decide about facts?
How much fact is necessary in the book versus its emotional value in the story? I literally cannot read some books because I'm not a fact person and I'm not a logical person. I'm an intuitive person. For me, I can't read those books. How do you decide how many facts you're going to fill in for the audience? Is it a little mix? What is the magic trick? Is it different each time?
It all depends on which books they are, the type of books, and all that thing. We always like to encourage people to tell stories within their books and their chapters. Every chapter, it's great if you have a story because people will remember the stories more than the facts necessarily. If you give information on how to do something and then show people in a story how it works, it's going to stick with them longer than if you tell them the facts.
The key to a successful book is word of mouth. You have to read the book and love it and tell your friends. How many books have you read that you loved and told other people about? That's what makes a book successful. It's that word of mouth and the stories help word of mouth. If you love stories and whatever you want, like nonfiction books, which is especially what I'm talking about, or books you buy to do something.
The key to a successful book is word of mouth. You have to read the book and love it and tell your friends.
Click To Tweet
If you buy this book, 10X is Easier Than 2X, you start applying these principles in your life or in your business and you have success, you're going to tell other people, "I read this great book and it helped me build my business, or it helped me change something in my life or make my life better." Your friends are going to go, "I want to be like that and I'll get the book too." It's like that as far as how you develop the book. You want it to be so people read it and want to tell their friends. Tons of facts are good, but in the majority, the combination of practical advice and stories is usually the best approach.
It could be stories about you and how you applied it, but they can also be stories if you worked with other people about clients and how it worked for them or that sort of thing. It doesn't have to be all about you. In fact, it's better in many cases if it's not just all your story because then you're relying on people who know you well or want to be connected with you more than what you're teaching. Books that are hard to sell are memoirs or books about your life. Those books are extremely difficult to sell.
I see it a lot and you must be seeing that a lot where people come in. Let's call it for what it is. They have this ego that they want to appear in the world. They want to be something they're not. Those people who want this big success that comes from that place that is not authentic, what do you tell them when they come to you and they say, "I want to write my biography." They want to write all about them. At the end of the day, you and I know that nobody cares. How do you do it?
You don't publish those books. It's like I said before, there are books that go to lots of people and books that are for your friends and family or for your own healing. Writing about your life is for your own healing or your friends and family in most cases, unless you have a giant audience. You can incorporate things about your life to illustrate points for other things. There are ways to do it.
We call it teaching memoirs. In other words, you take your life experience, teach something you learned, and use that as an example. You can reach a broader audience because you're sharing things you've learned in your life that you want to change, and help other people so they don't make the same mistakes as you. That's way easier to sell to an audience than your life.
The only people who care about your life are if you're a big giant celebrity or if you have millions of followers or hundreds of thousands of followers, someone might. If you don't, you should do either a teaching memoir or a narrative nonfiction where you can tell stories about your life that can help people change their lives.
Your happiness for you now in your life is helping others. What fulfills you right now?
That's what we do here at Hay House. We help other people do what they're going to do. Wayne Dyer always used to say this quote, "There's no way to happiness. Happiness is the way." If you're happy, you're going to be happy. If you're not happy, you're not happy. There's no easy way to get there. You have to be happy and then you are happy.
If you're happy, you're going to be happy. If you're not happy, you're not happy. There's no easy way to get there. You have to be happy and then you are happy.
Click To Tweet
What a beautiful, true, pure message. Often, we might hear those words, but we don't truly understand what they mean because the fact is that very few people are truly happy. Very few people who are living in this world are very caught in suffering, and you're not. I can see that very well. You were talking about you being in nature and your heart shines. You say, "Nature is my place, my sacred ground." Look at you. You have a glow all over you. You are like a Buddha. You come in, you step into what it is that you are, which is beyond the name or even beyond your success. I see it's beautiful. You're being you. That is happiness, isn't it?
That's it. Everyone has to realize that you're not your success. That's the thing that people find out as they get older and learn things along the way.
If they're lucky enough to find it and learn it like you have it is not a coincidence that you have traveled and that's your own belief. I do believe in reincarnation. It is no wonder that you came into this life and you have those mentors, those two individuals, that they were meant to be, and you were meant to teach those things that are so valuable for people's happiness and success and love. You are on this path. Your path is the path of enlightenment because you might do all of these things in your business, but when you look at yourself alone, you are this light that is transforming people every day. That's beyond perhaps even the success that you're having.
Thank you. That's very nice. I don't teach any of this. I help other people teach it. That's my goal and that's what I do. Basically, what I've done for all these years is teach people to believe in themselves that they can help other people. That's the number one thing that I try to do. That's what I've had success doing. It's helping people believe in themselves.
What is the commonality in the one person that doesn't believe in themself? Is this a lack of confidence? Is this fear versus love? What is it that you see and what is the doubt that you have to remove?
Lots of people either think they're not good enough to do it, or there are other people that are better than them or all those doubts that we all have at different times. Even famous people who have big audiences have to overcome that in order to write their books. It's not just the people beginning it and then they get out and start teaching, and then they have success teaching. Everyone is the same. The best teachers teach what they need to learn. Louise Hay wrote her book. You can hear about self-esteem and loving yourself and all that. That's what she worked on her whole life because she had a very difficult childhood and that's what happens.
Wayne Dyer used to say the universe said, "You want to teach people about self-reliance, then go in this orphanage and be there by yourself without your family or with your brother, and learn about self-reliance. You can then go out and teach about it." It's something that you're going to be learning for a long time when you have that beginning to your life, but that helps you work and help other people because you know exactly how they feel.
People that are the most successful are working on the things they teach. That's like both Wayne and Louise, as they went through their life, their books changed. As their life changed, they had different things to share and teach with people. Wayne Dyer wrote his very first book, Your Erroneous Zones. It was the biggest-selling book of the decade of the 1970s, but nonfiction book.
It doesn't even have the world word universe or spirit or anything like that in it. A few years later, he wrote a book called There's a Spiritual Solution to Every Problem. As his life changed, so did his teachings, his books, and his sharing with different people about different things. It is a progression of his life he shared as he went along the path.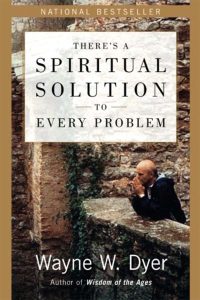 That's the same with Louise and a lot of these great teachers who have so much to share with people. They share their progression as they go through their life. That's what all of you can do if you want to write your books. What you write today will be different in 5, 10 or 20 years. It's just sharing what you've learned and then hopefully, it helps other people along their path.
Of course, getting attached to the outcome, we can get stuck too. Let's say I write a book and I'm successful. Now I'm thinking as this person as I am successful and I get attached to that goal. Doesn't that create also getting stuck or getting in the way of our evolution?
Definitely. You have to do it and it is what it is. As Wayne and Louise always used to say, all they do is provide answers. They don't do anything. If your life changes, it's not because of them. It's because of you. They say, "I don't want to take credit for your success because then I have to take credit for your failure." It's up to you what you do. You can say, "It's only a success if I sell a million books, or it's only a success if I help one person." That's your choice of how you approach it, but I suggest you do it. Help people do what you can. No matter if there's one person or a million people, you can help them along the way.
You've always had intuition since growing up. Did you always feel intuitive about how you make the decision with intuition and perhaps now more than ever?
Yes. Everyone says I have good intuition. I've always used it for picking authors and doing different things. I'm good at doing that. That's a big huge thing for Louise. She always used to call it her inner ding. She wouldn't do anything if it didn't agree with her inner ding. I guess I learned from being around her the importance of intuition and doing what you think is right, no matter what other people think.
That is a confirmation of that because it's a hard thing to explain to people how to develop this intuition. There are many things you can do. You can start by reading a Louise Hay book. There are things that you have to develop for yourself internally.
Everyone has it. You just have to trust it. That's the thing that you learn to do over time, probably. Some people learn it fast and some people never learn it.
Everyone has good intuition. You just have to trust it. That's the thing that you learn to do over time, probably. Some people learn it fast and some people never learn it.
Click To Tweet
It's true. It's okay too because not everybody is on the same track and the same level. We're all moving in different directions. It's no judgment to anything or anyone that we're all here.
We have lots of authors that teach about it. Sonia Choquette has tons of things about it.
A lot of people are teaching intuition, that's for sure. What is next in your universe? If you have an answer to that. Also, I would like to know because the audience might also want to know to follow you or to get part of what it is that you're doing or what's coming up or anything that you can share with us as far as that. What is next for you?
Everything is at Hay House. You can go to HayHouse.com. I mainly do the Teach the Writers, so the writers' workshops and entrepreneurs and all that. That's the things I do for people. There's a place on there where you can sign up for the Present Moments newsletter that I write every week. Every Sunday, I send it out to 1.5 million people. I've done 300 or 400 of them. That's it. I don't have anything to tell about other than that. Get on the Hay House mailing list, check it out, and that's it.
You're always vetting books or do you take time in between and say, "We're not touching anything now?"
For Hay House books, all our books mostly come through agents. They send in book proposals. The exceptions are the Hay House Writers community and the Authorpreneur. Those are two programs. The Authorpreneur is for those of you who want to use your book to build your business and the Hay House Writers community is for you who want to write a book and get it out there and you're not as interested in the business part. Maybe you don't know the idea that you want to do. It helps you develop the idea and all that. We pick two winners from each of those communities, so two a year. At least four. Sometimes, we pick more than two. If you're a beginning author, that's the best way to be a Hay House author.
The majority of the people we publish have big platforms. We have hundreds of thousands of people they connect with, via email, and social media. That's the majority. We've had huge success with some of the authors from the writer's communities. Rebecca Campbell is one of the ten biggest authors at Hay House and she came from the writer's contest. We have a new book called Mother Hunger that's a huge bestseller. She came from the writer, Kelly McDaniel. There are a lot of authors we get through there that have become very big at Hay House. That's our way of giving beginners a chance.
Are there any final words for the audience, the rebels, and the entrepreneurs who are trying so hard to get out there to share their message? Any final words of wisdom perhaps that come to you right now at this moment?
The big thing is you have to do it. I think the biggest problem with lots of entrepreneurs is they have lots of ideas and they don't take action to make them happen. The difference between successful people and unsuccessful people. You have to take action. Don't spend years and years planning it. Just start it and then you'll be able to change it and make adjustments along the way.
Getting started is the key. It's the number one thing I see most people don't do. They come up with ideas and they don't get them started. They are too afraid of making a mistake or doing different things. Everyone makes tons of mistakes. Lots of people start in one direction and go in another direction until they find the success they're looking for.
Most of the people are getting education from tons of people but not making the steps forward. Also, don't compare yourself to other people. Don't look at all these other people that are doing so good and I'm over here because you're looking at what they're doing in public, but you don't know everything behind the scenes. They might be looking at you going, "I wish I was like you." It's better to go on your path, do it, and meet the success you want to meet and make. Many people don't take those steps forward to even try to make the success.
If you're tuning in to this, do it. Take action now. Don't procrastinate. Do it.
Think big. That's what I love about that book I kept talking about. That book is brand new. It's awesome. We're having everyone read it, the 10X is Easier than 2X, because it does change your thinking about how you look at things. You're laughing. Other people think, "It might not be true," but when you read the book, it is true that if you think big, it's easier to succeed than it is if you think small.
If you think big, it's easier to succeed than it is if you think small.
Click To Tweet
That's another big concept that most people don't ever understand, especially how many times we increased our businesses here at Hay House. Ten times is a lot of times and most people can't even do it once because they don't think big enough of how to do it. That's for your personal life. Dan Sullivan, who's the author, taught 20,000 entrepreneurs who paid him to be part of his community to learn these concepts.
 It's a great thing to learn from people who have taught that many people because there's a reason that all those people showed up. Ben Hardy is the writer and he does an unbelievable job taking these concepts and making them easy to apply to people. There's a reason. It's going to be a huge success, this book, I promise. Not every book at Hay House, we make the leaders read. In fact, this is probably the first one in five years.
Who came up with that title? Bravo, my friend.
That's his Dan Sullivan. It's his trademark. He thought of it 34 years ago. That's when he came up with it. It was right when his marriage ended and his business failed and he was starting out again and then he came up with an idea. He has taught it for a long time.
That is the close. That's the message. That is very powerful. You never know. That's incredible. Thank you for sharing this.
Check it out.
We're going to promote the book and I wanted to congratulate you on your happiness, success, and love. All of it. Thank you for showing up in your light, wisdom, presence, and divinity. We appreciate you so much.
Thank you. Good luck with everything. Nice meeting you.
Nice to meet you. Much love. Thank you so much. Blessings.
—
This transmission of this wisdom was so pure and light, and the light itself that I trust that you received those words of wisdom, that you were able to be nourished from this nectar of wisdom, from this powerful message. As I'm coming back to this message, I'd like to share about BrainTap as well because it is so in alignment with this message.
Our sponsor, Dr. Patrick Porter, the founder of BrainTap, has created this technology to empower the minds of entrepreneurs, creators, and individuals who are seeking happiness, love, and freedom through this technique device. It is an app that is very simple and easy to use for everyone. With this headset, there is powerful light within it that stimulates the brain.
As we know, the brain is the seat of the soul. A lot of us, because there's so much data out there, so much going on, it is very difficult in this world to even stay focused on one small task. If you want to improve your focus and clarity, use BrainTap to facilitate meditations that would put you into an excellent meditative state to raise your consciousness and develop your self-awareness. There is so much within this headset and this brain tap technology that I urge you to connect with this, find out for yourself, and try it for yourself. Thank you for tuning in to this message of BrainTap.
To return to the wisdom of the show, it truly was inspiring. As you all know, I don't rehearse anything. When I have a being that comes in front of me as the self itself, what happens is things just naturally flow. Reid showed up in his wisdom so beautifully that after I discovered what this show would be about, I put some notes together for you. You can then take notes either physically or mentally or just absorb this wisdom.
One of the principles of success and happiness that he showed to us was what created his big success. This very simple, straight, direct message is to believe in yourself. That's what he said. If you can believe in yourself, there's going to be, evidently, a spark that will ignite that belief. Even the big fear won't be able to get in the way. You must start with that. If you can't start with that because you are in an environment that is not conducive to your happiness and success, then you must borrow someone's belief in themselves.
You must borrow confidence. You must associate yourself with someone who already believes in themselves because it's a matter of being with someone. That presence of the other who has what you want would already embed things within you so that you can turn around and start believing in yourself. At the end of the day, we don't have a valid excuse for not doing something or not writing a book that we always wanted to write or why not.
He shared very precisely those keys in a very beautiful flow of conversation. Believe in yourself. Without this, there is nothing. There is no book. There is no success or beginning of the creation of something because belief is what comes right after this creation. The consciousness, a thought of belief, and then the world appears. The belief that there is light. You must believe in yourself to accomplish what it is that you want to accomplish.
Also, one thing that he remarkably transmitted is acting on it. Start. Don't procrastinate. You can do it. Maybe you have those bad habits. You can very well change those habits with different habits. When you tune in to this show, go back to it again because there are many clues that you can start practicing right away. You don't have to wait. He said, "Act now. Do it now."
A beautiful message about happiness that when I asked him about it, he said something like this. Just be happy. Isn't it simple? It sounds very simple to have happiness in your life, simply be happy. Why can't you be happy? That's all it is at this moment. This moment is just happiness. There is no looking for it. There is no seeking about it. It is this moment. It is what you are, happiness itself because there's no need to look for happiness since it's already been there.
This is a very powerful message and I'm very happy to have shared this with you. I trust that I will continue to share and feed and bring you those beings that have the things you want. It's understandable for you at whatever it is that you want to achieve, whatever level you are, there is no comparison to anything, no judgment. He also shared that you should not compare yourself. If you want to be a successful entrepreneur, writer, speaker, mentor, or desire any other personality that you want to have, you don't need judgment.
You get rid of those doubts. You step into your light and you be yourself. You don't need to compare yourself to anyone. If anyone out there is successful, celebrate them. Don't compare to them because you have something they don't have because you have something they don't have. They cannot possibly be you. Yourself is that gift alone. No one can compare to you. You embrace your uniqueness. You believe in yourself. You step into the happiness within that you already are, and you act on it and you do it. When you do something with conviction, then the universe will line up all the little things and doors that need to open up for you. The first one is for you to believe in yourself. Nobody can do it for you.
That is my time for this episode. I trust that you enjoyed this show and our next rendezvous or our next show with us, it's going to be mystical. It is going to be magical because it always is. It always is here, right here, right now. We're all mystical. All is magical. All are as beautiful as you are. With that, my friends, I send you love, light, and peace. You take care of yourself. Be well, Shanti, Shanti, Shanti, Om.
 Important Links
About Reid Tracy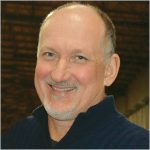 Reid Tracy is the president and CEO of Hay House, Inc., the largest and most influential self-empowerment publishing company in the world, where he has worked for over 30 years.Publishing hundreds of prominent authors over the years, Reid has played a crucial role in the strategic development of authors such as Dr Wayne Dyer, Dr Joe Dispenza, Jerry and Esther Hicks and Anthony William "The Medical Medium". Reid is also directly responsible for establishing Hay House's offices in New York, London, Sydney, and New Delhi.
Reid is also the president of the Hay Foundation which is a non-profit foundation founded by Louise Hay dedicated to the empowerment of women, children, and animals.